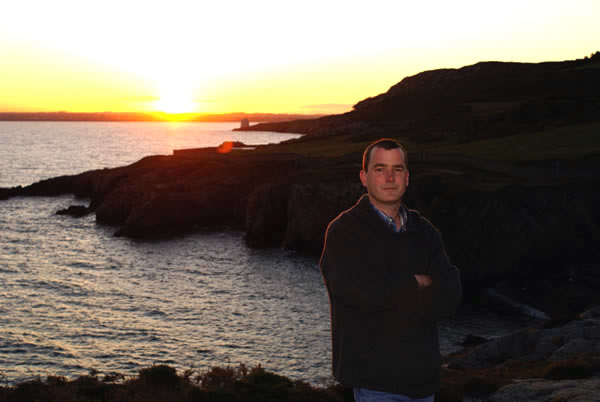 Irish composer Ciarán Farrell was born in Dublin, Ireland and graduated from Trinity College Dublin in 1997. Growing up he studied piano and clarinet at the Royal Irish Academy of Music, and later the guitar at the DIT Conservatory of Music and Drama. He also took classes with Ennio Morricone at the Accademia Musicale Chigiana in Siena, Italy.
He has worked with and received commissions from the BBC, RTÉ lyric fm, RTÉ Performing Groups, the RTÉ Concert Orchestra, the Ulster Orchestra, Craig Ogden, The Smith Quartet, Gerard McChrystal, John Feeley, Feeley/Dowdall duo, The Chatam Saxophone Quartet, Katie McMahon, Cois Ceim, Irish Modern Dance Theatre, The Degani Ensemble, Concorde,and Codetta amongst others.
Ciarán has also worked on numerous TV/Film productions including the internationally broadcast series Divine Magic and Eyes on the World. Andre Singer (MD of Cafe Productions) wrote of Ciarán on the completion of Divine Magic, '...a hugely ambitious undertaking which composer Ciarán Farrell took into his stride. I look forward to working with him again, although I suspect he will be in too great demand in the future.' Other production companies worked with include C4, Discovery, RTÉ, TG4, Littlebird and Non-Fiction Films.
More recently he collaborated with Irish guitarist Damien Kelly on a number of projects. Their first EP, 'Jolt', reached #1 in the Irish classical iTunes charts and their latest album, 'New Frontiers', was launched on the 7th of December 2012 at the Royal Irish Academy of Music. The thirteen tracks on the album include unique new music for bottleneck slide and also music for guitar with digital delay. Sheet music for the entire album is also included on the CD.
He has been the recipient of numerous music bursary and commission awards from the Arts Council of Ireland, and his work is performed and broadcast regularly both at home and abroad.
Ciarán lives and works on the picturesque peninsula of Howth, just north of Dublin city.
Press
It's rare to come across contemporary music that's as melodic and appealing as Ciarán Farrell's. - The Daily Mail.
Perfect State is a remarkable body of work. - TV Now.
This first full recording of Ciarán Farrell's offers ample evidence of a productive first decade a jobbing composer, showcasing as it does a vital, fast-maturing voice distinguished by melodic and harmonic fluency and an appreciable facility for writing music that communicates with a clear directness of intent. ...an accomplished, magnificent and mature work. - JMI - Journal of Music Ireland.
Perfect State, is a collection of compositions created over the last few years, and there's ample evidence that Farrell's talent is as large as his ambition. The variation of styles embodied within the five pieces on Perfect State is staggering, simultaneously playful and challenging. It only takes one listen to "Hopkins on Skellig Michael" to know that this young composer will be in high demand in years to come. Get it while it's hot. - The Silent Ballet.
This album is a joy to listen to and is a pleasant surprise coming from the Nuevo Classical scene. - The Silent Ballet.
The music on this album is a testament to the vitality of Irish musicians not alone in the rock or traditional sphere but in something totally new. - The Word.
Ciaran Farrell's Shannon Suite sets the standard. - BBC The Complete Guide to Classical Music.
The music of Ciaran Farrell excelled. - Tribune Magazine.