6th March 2012 -
'Jolt' - New video launch on the 8th of April, (Easter Sunday).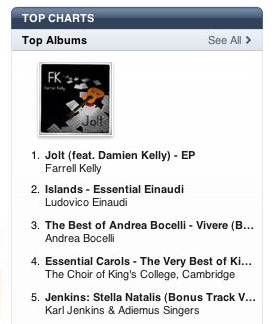 Ciarán Farrell and guitarist Damien Kelly, (Farrell Kelly), will release a new video on their YouTube channel, Farrell Kelly Guitar, on the 8th of April, (Easter Sunday). Three videos were shot to support their December release 'Jolt', which made it to #1 in the Irish classical iTunes charts, and their first video 'Wild Stream' has already surpassed 6,000 plays on YouTube since it's launch. The music has also been wamrly received at live concerts. The second video and title track of their EP, 'Jolt', will go live at 1200 hours. A third video to complete the series will follow some time this summer after which recording for their new album will begin. A total of fourteen tracks will be recorded for the album which will include unique new music for bottleneck slide and also music for guitar with digital delay. A release date has been set for the Autumn.
Jolt is now viewable on YouTube.